Spiritual air in the country is humbly rewarded with karma, the fragrance of religion and most importantly forgiveness. A secular country whose shelter is immensely placed in many religions in peace and harmony, India can be rightly called 'Land of trust'. Traduate through the mighty mountains and you will experience Divine Presence or cross through the corridors, where with spirituality is waiting for your spiritual form to welcome the spirited spirits. The holy land of the country constantly keeps you in touch with one supreme power which is settled in different forms. The existence of a large number of temples, mosques, churches, gurudwaras, and monasteries in India points to the journey of the traveler to a country which is tolerant, spiritual and diverse of all types united.
Golden Temple Amritsar Punjab India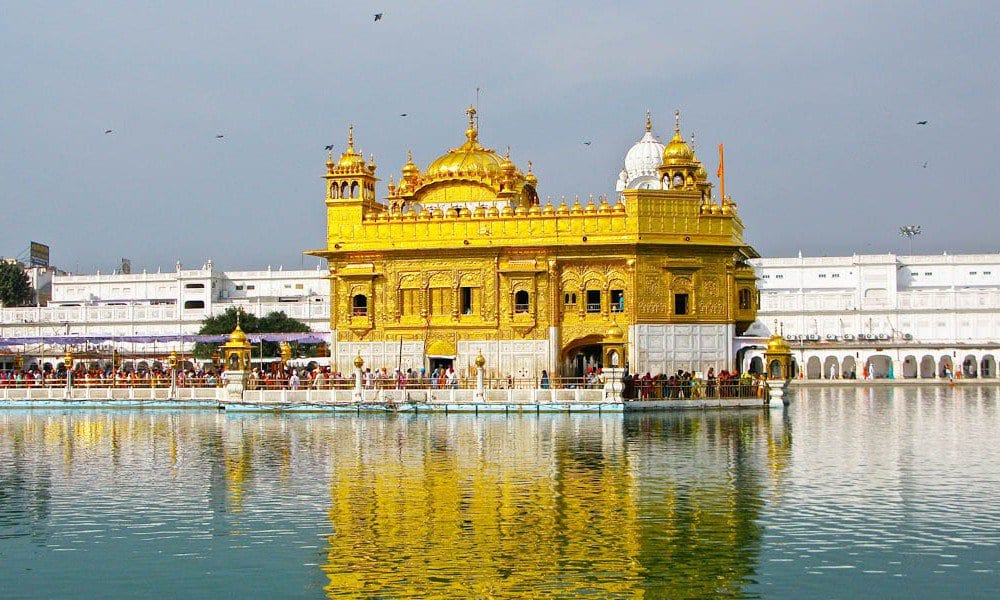 The Golden Temple,  Amritsar India is not only a central religious place of the Sikhs but also a symbol of human brotherhood and equality. In spite of the cast, creed or caste, everyone can search for spiritual comfort and religious fulfillment without any obstruction. It also represents the distinctive identity, glory, and heritage of the Sikhs. Penn-downing is an important task to visualize philosophy, ideology, internal and external beauty, as well as the historical heritage of Sri Harmandir Sahib.
As Shri Guru Amar Das Ji (Third Sikh Guru) advised, Sri Guru Ram Das Ji (fourth Sikh guru) began digging the Amrit (holy tank) of Sri Harmandir Sahib in 1577 AD, which was later brick-line In 15 December 1588, Sri Guru Arjun Dev Ji (5th Sikh Guru) and he also started the construction of Sri Harimandir Sahib. Sri Granth Sahib (theology of the Sikhs), after its compilation, first time on August 16, 1604. D. But in Harimandar Sahib was established, a devout Sikh, Baba Buddha was appointed his first Chief priest. The Golden Temple is a unique Sikh architecture in Amritsar (India) (Golden Temple Amritsar). Built at a lower level than the surrounding level, Gurdwara teaches a lesson of egalitarianism and humility.
Vaishno Devi Temple, Jammu Kashmir
It is said that, if you want to achieve the four goals of Indian spiritual tradition ie human life, religion (religion), meaning (contents), work (satisfaction) and salvation (knowledge), you must have at least one Watch Vaishno Devi Bar And even if you do not believe in religion, then you have to pay a visit to this place because of its natural beauty. Surroundings and wonderful tours will make your journey a memorable one.
It is a temple dedicated to the temple, which attracts thousands of tourists, especially but not from all corners of the country to Hindu pilgrims. It is believed that Mata Vaishnava Devi, which is also popular as Mata Vaishnavi and Mother Rani in Hinduism, is believed to have spent some time at the height of 5,200 ft in this cave while maintaining various spiritual disciplines. Currently, the Vaishno Devi Temple is India's second most visited religious place, with annual visitors of 60,000. The temple of Vaishno Devi is maintained by Shree Mata Vaishno Devi Shrine Board.
Hemkund Sahib
Located in one of the most beautiful places in the country, Hemkund Sahib connects the charm of India's religious tour. Unlike other Sikh shrines in India, Hemkund Sahib has a five-corn structure. The beautiful beauty of this place is remarkable because this temple is settled between the mountains covered with snow. In spite of adverse climatic conditions, pilgrims will be stunned like one who is shown here. The spiritual atmosphere in Hemkunt Sahib can move you to stay here for a while.
This religious site makes it even more popular, its location is at a height of 4636 meters. A large number of devotees are visited before the holy pilgrimage anniversary of the Garhwal Himalaya is closed annually for the winter season between October and April each year. From the month of May, Sikh pilgrims started helping to repair the damaged marks in the winter months to reach Hemkund Sahib and then started helping to pilgrimage. This tradition is called car service or selfless service, which is an important concept in Sikhism. Hemkund Sahib also keeps a beautiful lake, in water, devotees take a dip. According to Hindu mythology, Hemkunt Sahib was known as Lokpal, which is a lake which was based on Lakshman's meditation, which was the brother of Lord Rama.
Ajmer Sharif in Ajmer
Located in Ajmer in Rajasthan, the dargah of Khwaja Moinuddin Chishti is not only in Rajasthan but one of the most prestigious places in India. Popularly known as Ajmer Sharif, Dargah comes every year by many devotees.
These devotees are not only Muslims of India but also large numbers of Hindus who respect and follow the teachings of St. Khawaja Moinuddin Hassan Chishti, popularly known as Khwaja Gharib Nawaz, Is considered as a preacher. Born in Chishti area in Afghanistan, Saint Moinuddin Chishti was above material and worldly things. In order to give humanity a higher means of survival, he came to India in his process and settled in Ajmer.
Amarnath Cave
Amarnath cave, located in the Indian states of Jammu and Kashmir, is one of the most famous Religious sites of Hinduism. Devoted to Lord Shiva, the temple claims to be more than 5000 years old and becomes an important part of ancient Hindu mythology.
Inside the main Amarnath cave, there is an ice slagmite like Shiv Ling, which is growing from May to August and then slowly bends. It is said that this penis is said to grow and shrink with the Moon's feet, which reaches its height during the summer festival. According to Hindu mythology, this is the cave where Shiva explained his divine wife Parvati the mystery of life and eternity. There are two other ice structures representing Ganesh, the son of Parvati and Shiva.
This is a popular pilgrimage site for Hindus- during the four-day session of the festival of Shravan Mel in July-August, about 400,000 people meet with the hearing of Hindu holy month.
The devotees usually take 42 km (26 miles) pilgrimage from Pahalgam city, which is approximately 96 km (60 miles) from Srinagar and covered the journey in four to five days. There are two alternative routes in the temple: a longer and more traditional route from Srinagar, and a short route from the city of Baltal. Some devotees, especially the elderly, also ride on horses to travel. During the last fifty years, the size of Shivling has decreased in size. Although the weather affects its size and size, many environmentalists blame global warming for this situation.
Goa
Goa (Go Goa) is known for its striking landscape, famous Goa beaches, wonderful monuments, and churches in India and the bustling Goa Nightlife. Goa is one of the most visited tourist destinations in India, especially at weekends, because it is not far from Mumbai, but Panaji is considered as the largest city of its capital and Vasco da Gama. It attracts a large number of tourists all over the world, throughout the year. There are many places and tourist attractions for traveling in Goa information about Goa travel and tourism guides are incredibly rich with Goa map and images. In this wonderful beach city, you get many options for the cheap hotel of Goa Hotel, budget rates for luxury resorts with a large range of resorts of Goa and Goa hotels and resorts. Apart from this, there are many affordable tours and packages available for touring Goa.
Dwarka 
It is believed that Dwarka was the first capital of Gujarat. Located in the Saurashtra Peninsula of Gujarat, Dwarka is part of the Char Dharam pilgrimage and is one of the seven ancient cities (Satpuri Puri). Also known as Gavarati, Dwarka is derived from the word 'bora', which means the gate and the 'ka' refers to the Brahma. Therefore, Dwarka means entrance to Brahma or salvation.
After leaving Mathura, Lord Krishna established his kingdom in Dwarka on the banks of river Gomti. Legend, after the death of Lord Krishna, the city of Dwarka drowned under the sea It is said that the city was rebuilt six times and the present city is seventh.
Indian archaeological survey has revealed the existence of the old city for two centuries. Excavation work done between 1983 and 1990 showed that a township was built in six areas. A walled wall spread over more than half a mile. At present, Dwarka is a major pilgrimage site and claims many temples. In the temples, the 2000-year-old Dwarkeshesh temple is one of the most remarkable. In addition to its temples, the city is also popular for its beaches. Scuba diving is a popular activity to see the remains of Dwarka under water.
Rishikesh
Rishikesh is a small town and municipal board in Dehradun district of northern Uttarakhand India. The scenic place is situated where the holy river the Ganges falls below the Himalayas.
When the Beatles were dropped for the visit of Maharishi Mahesh Yogi's ashram, Rishikesh was for Western fame. Rishikesh is associated with Lord Rama and Lakshman. The city of Rishikesh is situated in the foothills of the Himalayas of the Garhwal region. It is the starting point for upper entrance gate of the Garhwal region and the Char Dham pilgrimage (Gangotri, Yamunotri, Badrinath, and Kedarnath) and not only for pilgrims but also for those who are ideal, adventurous, yoga and interested in Hinduism Other aspects.
Haridwar
Haridwar is where individuals from all finished India go for journey and take a heavenly plunge in the blessed stream, Ganga. Haridwar is an antiquated city and it is a standout amongst the most consecrated urban areas in India. The differing idea of Hindu religion has pulled in remote vacationers from everywhere throughout the world. Outsiders dependably pulled in towards Haridwar on the grounds that here they can encounter the intricate culture of India, different Hindu customs, an old human progress. Haridwar is 30 km from Rishikesh and 90 km from Mussoorie and 220 km from Delhi. Tehri is one of the essential zones where River Ganga develops, enters the mountains and plain regions. The dim green woodland and completely clear water of the waterway make the wonderful magnificence of the blessed city of Ganga and the foundation of the mountains. If you want to take the sin of Gangaji in Haridwar for your sin" (If you want to purify, take a holy dip in the water of river Ganga in Haridwar, all your sins will be purified). This is the most common thing that you can hear about Haridwar all over India.