India is one of the most exotic and ancient cultures in human history (which makes it very exciting for India's sightseeing). It is more than just a country, it is a subcontinent with many different languages, religions and cultural differences.
It gives India many different tourist destinations for everyone. India has long been an area whose product has been distinguished by people across the world (when you are completing all your tourist attractions in India Do not forget to buy a lot of things.It is considered to be an area to buy luxury goods, from its spices, cloths, rugs, and dishwares. It is home to some of the world's first universities and modern Western number system.
Here are the top 5 tourist places in India:
1. Taj Mahal
The Taj Mahal is not really a complex, there is not only a building, you should look around the entire complex which provides effective ideas and structure. Nearby is the red fort which is an extravaganza of foreign Mughals (Indian for Mongols) empire.
A huge tomb of white marble built in Agra between 1631 and 1648, in the memory of his favorite wife of the Mughal emperor Shah Jahan, Taj Mahal is the jewel of Muslim art in India and is one of the world's most admired masterpieces. Inheritance.
Address: Dharmapuri, Forest Colony, Tajganj, Agra, Uttar Pradesh 282001
Timings: Every Day, (except Friday), Sunrise to Sunset
Night, 8:30 PM to 12:30 AM (On Full moon night, two days before and two days after)
Day Time Visit Ticket prices
Rs 1000 (Foreigners)
530 (Citizens of SAARC and BIMSTEC Countries)
40 (Indian)
Entry Free for children below 15 years of age
Night Time Visit Ticket prices
750 (Adult, Foreign)
510 (Adult, Indian)
500 (Child 3-15 Years, Indian & Foreign)
Entry free for child below 3 years of age
2. Golden Temple Amritsar Punjab India
The Golden Temple,  Amritsar India is not only a central religious place of the Sikhs but also a symbol of human brotherhood and equality. In spite of the cast, creed or caste, everyone can search for spiritual comfort and religious fulfillment without any obstruction. It also represents the distinctive identity, glory, and heritage of the Sikhs. Penn-downing is an important task to visualize philosophy, ideology, internal and external beauty, as well as the historical heritage of Sri Harmandir Sahib. It's a matter of experience rather than a description.
As Shri Guru Amar Das Ji (Third Sikh Guru) advised, Sri Guru Ram Das Ji (fourth Sikh guru) began digging the Amrit Sarovar (holy tank) of Sri Harmandir Sahib in 1577 AD, which was later brick-line In 15 December 1588, Sri Guru Arjun Dev Ji (5th Sikh Guru) and he also started the construction of Sri Harimandir Sahib. Sri Granth Sahib (theology of the Sikhs), after its compilation, first time on August 16, 1604. D. But in Harimandar Sahib was established, a devout Sikh, Baba Buddha was appointed his first Chief priest.The Golden Temple is a unique Sikh architecture in Amritsar (India) (Golden Temple Amritsar). Built at a lower level than the surrounding level, Gurdwara teaches a lesson of egalitarianism and humility.
Address: The Golden Temple, Harmandir Sahib, Amritsar, Punjab – 143001
Entry Fee: No entry fee
Timing: Visiting Hours Open 24 hours
Official Website: www.goldentempleamritsar.org
Photography allowed or not: Not allowed in inside the Temple.
3. Colva Beach in Goa, India
Selva Village of Colva South Goa is a beautiful beach. A very popular tourist destination in Goa, it is known for its beaches, food, pubs, and bars, it is also known for its Portuguese importance, many buildings, which speak of history, beauty, and architecture. Extension from Bogomlo beach to Cabo de Ram Beach; Standing on the seashore full of coconut.
Things to do in Colva Beach
Colva beach is famous for its White-Misty Mercy Church, which was founded in 1630. This is a beautiful church, for this architecture, design, and beauty, this place has been seen for all these years only. It is also known locally as a religious program called "Fama of Menino Jesus" It is celebrated on the third Monday of October every year.
Like other beaches, it is also carried out outside of many adventure games in many water sports. For a brave boyfriend; Snorkelling, speedboat ride, parasailing, jet skiing, banana rides, motorboat rides, paragliding has got much to experience the game of a wonderful beach.
The beach is not only known for adventure, but leisure activities also come in the sea for many tourists – baths, seaside walks, sand castles and such things. Children like to play in the sand and just walk around. Nightlife is one of the finest works, offering many famous restaurants and bars with bars and high music and complimentary drinks. Beach shack is often open for hours to stop, which enters tourists by its disco.
Visitor information:
Famous for: Nature lovers, fun lovers, adventure seekers
Entry Fee: No Entrance Fee
Time tour: 12:00 AM – 12:00 AM all days of the week
Travel period: 2 to 3 hours
4. Best Regal Splendor: Udaipur
The famous city of lakes and palaces and the most romantic city in India should travel to the ability to immerse yourself in the royal monument. The royal family converted the huge city palace into a museum, the house priceless memorial.
It provides an extraordinary opportunity to take a look at their lives. Another interesting thing about Udaipur is that it offers great value! At the Shiv Niwas Palace Hotel or Fateh Prakash Palace Hotel, there are very affordable yet atmospheric hotels overlooking the lake to stay here at Hotel Palace Complex.
Things to Carry
Carrying a camera is recommended but it does incur special charges.
Ample water and food should be taken since it takes a minimum of two hours to go through the entire complex.
Carry student IDs and citizen IDs to avail any discounts.
Availability of Guides
A Hindi-speaking guide will charge Rs.300 at the City Palace complex
Guides at the museum charge Rs.200 and audio guides are also available.
City Palace Timings: 7 am to 11 pm
Ticket Prices
Entrance Ticket Adult (to Get Entry in Permitted Areas Only)- Rs.30
Entrance Ticket Children (to Get Entry in Permitted Areas Only)- Rs.15
The entrances of City Palace are Badi Pol and Sheetla Mata Gate. Tickets are sold at both the entrance gates.
City Palace Museum Timings: 9.30am to 5.30pm
Ticket Prices
Adult (Age above 18 Years)- Rs.250
Child (Age 5 to 18 Years)- Rs.100
Child (Age below 5 Years)- Free
All Types of Camera- Rs.250
Students in Group- Rs.100
5. Best for History and Architecture: Ajanta and Ellora Caves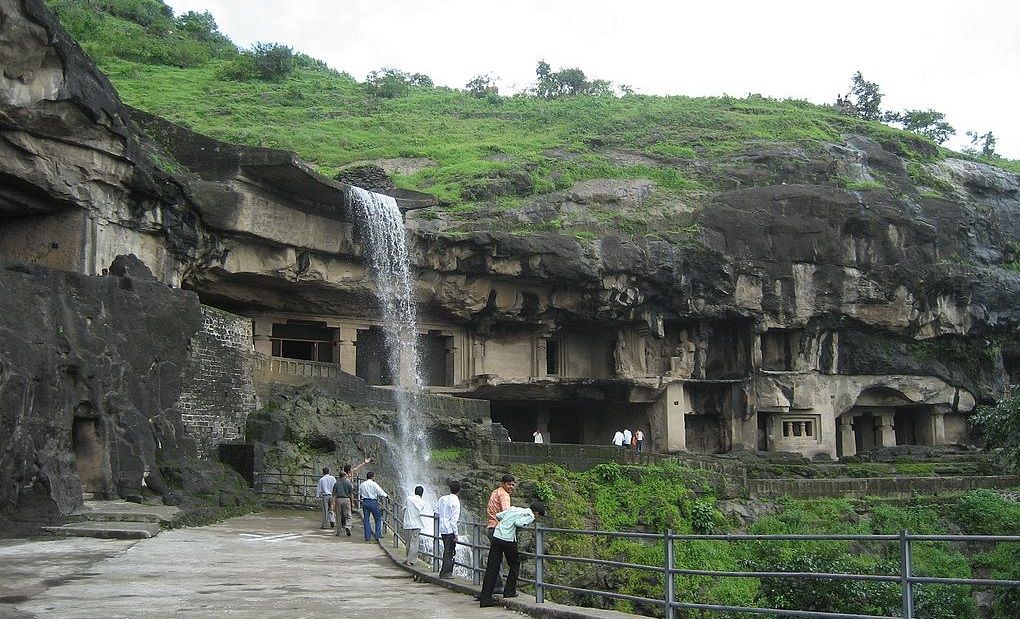 The most popular and widely recognized caves of India, in the middle of Aurangabad in northern Maharashtra, the caves of Ajanta Ellora have been made in the rock of the shield. These caves are just awful, words cannot be described how they are magnificent.
Overview-
India Cave Tour – A visit to Ajanta and Ellora Caves, one of the finest historical and world heritage sites in India, is a small tour in the remote area of Maharashtra. The world heritage caves of Ajanta and Ellora are the most beautiful gems of rock-cut architecture. The last jaw-dropping Kailashnath temple complex, in Ellora, is a cave 16, which was designed as a philosophy of the devotee of Lord Shiva's residence, Mount Kailash. The largest monolithic structure in the world, it is twice the size of famous Pantheon in Athens. Hindu caves of the 6th century AD, Buddhist, Jain, and Ajanta and Ellora dating to second century BC are the world's most important cultural treasures.
Timing: All days of the week except Tuesday  (Sunrise – Sunset)